From small-scale building projects like family homes to large-scale ones like commercial buildings or bridges, welding plays an integral role. The role of welding is exemplified by the intensive use of metals in building projects to ensure structural integrity and durability.
Each year, millions of tons of steel are welded into building projects especially in making strong structural frameworks. Part of this welding may be pre-fabricated or sometimes done on-site. This is what makes quality welding an indispensable element in building construction.
Being that crucial, you cannot afford poorly done welding in your structure. If incurred, some welding faults can only be remedied by demolishing the entire structure. That instantly translates to additional costs, time, manpower, and materials. You sure do not want such a devastating disruption on your project schedule.
Therefore, when making plans to build, you should factor in quality welding in addition to quality building materials.
That said, quality welding is a function of top-grade welding supplies. These can only be sourced from a proven supplier with years of delivering long-standing structures. Pioneer Hardware fits the description.
Working with us means working with the best in the world of quality hardware supplies. Our industry-leading welding supplies intuitively work together to guarantee you a safe, durable, inexpensive, and visually-appealing building project.
If this sounds like the kind of partner you have been seeking for your next welding project, get in touch with our customer reps at Pioneer Hardwares' Ruaka store today at 0723364999 or 0782005737 to get started. When you work with us, we always go above and beyond to deliver timely supplies for timely project completion.
How Is Welding Applied in Construction?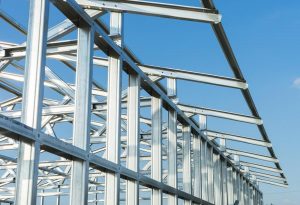 The application of welding in construction may vary broadly depending on the type of structures created. Broadly speaking, the major welding applications may be classified as:
Building Construction Applications
Whether for residential or non-residential structures, welding comes in handy when joining different metal components to produce the desired structural frameworks.
For instance, welding may be used in linking steel I-beams, columns, trusses, as well as footers to support your building's roof, walls, and floor.  Generally, these structural components are cut to size and shape, installed in their rightful positions, and welded together to create a complete structure.
In addition to structural components, welding may as well be applied in fabricating the non-structural components of a building such as handrails, floor joists, firewalls, stairs, and the like. Furthermore, welding may also find application in the installation of plumbing systems, electrical systems, fuel systems, and ventilation systems.
Infrastructure Construction Applications
Putting up infrastructure such as dams, stadia, railways, bridges, highways, and water supply systems also employs a huge investment in quality welding. Welding in this case is mostly for structural applications.
Being megastructures, infrastructure construction relies heavily on welded metal frameworks to guarantee strength, integrity, and durability. For that reason, most of these structures are created almost purely of metal.
Industrial Construction Applications
Large-scale industrial structures too employ welding to earn that much-needed extra layer of structural soundness. Some of the interconnected industrial systems that mostly rely on quality welding to stand the test of time include mills, refineries, manufacturing plants, power generation stations, and the like.
What Welding Technologies Are Applied in Building Construction?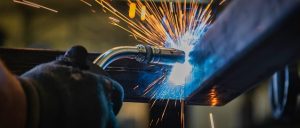 Being an industry with a wide array of welding needs, the building construction sector relies on several welding technologies to set up enduring structures. The most popular technologies include:
Flux-cored arc welding (FCAW): Commonly used in the repair of heavy equipment and structural steel fabrication.
Submerged metal arc welding (SMAW): Widely applied to connect steel structures and when fabricating industrial iron and steel.
Gas tungsten arc welding (GTAW): A complex technology, GTAW uses a tungsten electrode to weld different metals together. It is preferred for its compatibility with different metals including gold, aluminum, steel, stainless steel, copper, and bronze.
Gas metal arc welding (GMAW): Also referred to as MIG welding, GMAW sits well with both structural and non-structural applications.
Why Incorporate Welding in Building Construction?
What value does quality welding add to your building project? Well, to maximize the return value on your building's structural integrity, welding plays a leading role. At the end of the day, your building is as good as the value you derive from it.
Having said that, some of the tangible gains you can reap from quality welding in your building construction include:
·         Durable Structures
For a moment, imagine the harm structural failure would cause to you and your resources, then you will realize the significance of reinforcing your structure with quality welding. Involving welding in your building project essentially fortifies your structural integrity to boost the longevity of the building.
Since your building is a lifelong project, you need a surefire way to ensure it will stand the test of time. Therefore, if you opt for poor welding, you may as well be reducing the building's lifespan. With top-notch welding, however, you can rest assured thanks to the unrivaled strength of weld joints.
·         Efficient Processes
As you embark on your building project, your aim is to save as much money, time, and resources as possible. Well, that is far from possible if your building process lacks efficiency.
The truth is, bringing quality welding into the building process adds another layer of efficiency to the overall productivity.
First of all, the welding process itself is by far efficient when employing the right welding equipment. Secondly, mixing this efficiency with the latest technological advancements in welding is sure to shatter your expectations of the project timeline.
Chief among these innovations is welding automation equipment. Arming your welding process with automation not only boosts efficiency but also enhances accuracy. Some of this equipment includes welding positioners, welding manipulators, automatic wire feeders, and turning rolls, just to name a few.
·         Flexible Processes
Quality welding also adds some degree of flexibility when setting up different structures. That means you have a wide selection of welding techniques to choose from to satisfy all your unique fabrication needs. The high compatibility of welding also allows you to use different metal grades without any restrictions. What a way to save precious time!
·         Reduced Costs
When planning for your building project initially, accounting for top-notch welding will go a long way in cutting your expenses throughout the project and the structure's lifespan. During project inspection, for instance, the quality of your welding plays a decisive role. If it is found to be poor, it is deemed a safety hazard and you may have to redo the structure. That's an additional cost, obviously.
Moreover, quality welding spares you the trouble of frequent costly repairs on your building later on. Repairing the welded sections of your building is not only highly inconveniencing but also translates to higher costs in the long run.
·         Better Aesthetics
Most modern buildings integrate intensive welding both on the interior and exterior parts of the structure. Without investing in quality welding, the desired aesthetics of your building may not come out right. The opposite is also true. Involving the right welding equipment and materials can make all the difference in the overall beauty of your structure.
What Welding Supplies Do You Need?
Now that you have understood the applications of welding in building construction, the welding techniques used, as well as the benefits of welding for your project, let's shift the gear to the meat of the process.
What constitutes the best welding equipment for the most satisfactory results? Well, that depends on where you shop for your welding tools and accessories. When you shop with Pioneer Hardware, Ruaka, you can expect nothing short of the highest quality supplies.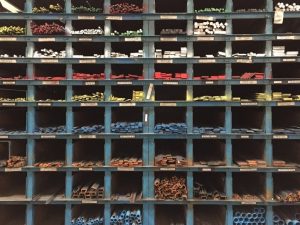 Our vast collection of quality welding equipment and cutting tools includes:
Welding pliers
Welding safety gear
Wire brush
Hack saw
Welding clamps
Welding magnets
Mild Steel (MS) plate
Squaring tools
Welding rods
Angle grinder
Cutting disks
Grinding disks
D-bars
Flat bars
Z-bars
Square tubes
Weld Like a Pro!
From the foregoing, it is evident the importance of welding in building construction cannot be overemphasized.
In other words, whether you are looking to erect a residential or commercial building that can withstand the harshest punishment, you cannot overlook quality welding and still achieve such a milestone. Similarly, you cannot overlook the best quality welding supplier and still end up with a durable structure.
So, as you chart out your building plans, you want to make sure you involve a welding supplier that cares about cost savings, efficiency, and professional-grade outcomes. Look no further than Pioneer Hardware, Ruaka.
When you visit our Kiambu store, you can be sure to walk away with a lifelong smile backed by our promise of a lifelong structure. All our attendants are not only professional but also friendly enough to hear you out and afford you tailored solutions to your unique welding needs.
Ready to put up a durable structure? Give us a call today at 0723364999 or 0782005737 to access our durability-oriented welding supplies.