Building your house or commercial premises is never complete without a connection to electricity. When it comes to that, electrical supplies and materials are responsible for bridging the gap between your final structural output and electricity to power the full functionality of your project.
That said, when it comes to shopping for electrical products, safety is a critical consideration. In other words, working with electricity is a safety-critical endeavor, and even the slightest quality mistake when purchasing electrical products for your building project could quickly translate into a catastrophe.
Thus, for your upcoming building construction project, make sure you only obtain quality electrical products. Quality electrical supplies are thoughtfully designed to serve you efficiently and for a long time. Ultimately, they afford you the best value for your money.
So, where does your journey for quality electrical supplies begin? Well, from a reliable electrical supplies retailer, of course!
Look no further than Pioneer Hardware. We are a recognized supplier of top-notch building materials in and around Ruaka, Kiambu, and Nairobi, and quality electrical supplies come with the whole package.
As your one-stop electrical supplier, we are committed to providing you with superior quality and long-lasting electrical solutions to keep your residential or commercial building in its best working order always. From quality wires, cables, circuit breakers, panel boards, and lightning arrestors, to conduit pipes, we are your go-to supplier of the highest quality electrical products.
Ready to shop with us and see what comes up? Simply contact us today to speak to one of our professional, friendly, and knowledgeable attendants. We look forward to hooking you up with the most flawless flow of electricity in your building.
Thanks to our trained attendants and in-house technicians, when you turn to us you can expect nothing short of timely customer support, consistent quality, competitive pricing, availability, exemplary service, and continuous innovation in all our products.
Put simply, working with Pioneer Hardware for your electrical solutions comes with surpassed expectations!
We partner with proven electrical distributors
To rule out quality compromises in our service delivery, we only stock electrical supplies from reputable local and regional distributors.
Whether you are looking for the highest-quality electrical cables, earthing accessories, ventilation solutions, electrical wiring accessories, motors, or power protection supplies, our distributors are carefully handpicked to guarantee consistent quality.
Having said that, below is a list of the best distributors of electrical products we work closely with regionally:
Thames Electricals Ltd.: Best international brands of electrical accessories, fittings, and equipment such as Panasonic, ABB, Omron, 3M, Windsor, IMAK, and TLAC, among others.
Electric link Pan Africa Limited: Boasts a wide array of RR electrical products including fire safety equipment, electrical cables, earthing accessories, and electrical wiring accessories, just to name a few.
Tronic Ltd: Leading distributor of LED lighting, cable management systems, isolators, voltage stabilizers, fans, bells, electrical switchgear, as well as outdoor electrical accessories.
Powermax General Electrical Merchants Ltd.: Major dealer in solar lighting including streetlights, floodlights, wall lights, garden lights, and indoor lights. Other items in their stock are surge extensions, quality cables, sockets, switches, as well as inverters.
Power Controls Ltd.: Specializes in industrial electrical products and equipment such as meter boards, battery cabinets, transformers, inverters, UPSs, cables, and voltage equipment.
Metsec Cables Ltd.: A company with a multifaceted approach to the production of cables for both the telecom and energy industries. In addition to cables, they also deal in metering products, contactors, capacitors, switchboards, insulators, wiring devices, and surge protection devices.
What are the different types of electrical supplies in our store?
Electrical materials or supplies play an integral role in a building construction project to connect your building to an electrical power source. Electrical parts may vary from tiny residential circuit breakers to large industrial switches.
No matter the size of your project, at Pioneer Hardware, we promise you a large inventory of electrical building products and supplies to suit your unique project goals without any hassles.
In a nutshell, extension cords and power strips connect to equipment way beyond the vicinity of a power outlet to supply them with power. Receptacles and wall switches serve as fixed access points for connecting to and controlling electrical power.
Connectors and plugs build and ensure consistency of electrical connections. Lastly, wire management products simply organize, protect, and support cables and wires.
Now that you have painted a vivid picture of what electrical supplies accomplish in a building, let us delve a bit more into the categories of products you can expect to find at Pioneer Hardware for your project in and around Ruaka, Kiambu, or Nairobi.
Among other electrical supplies, we provide:
·         Electrical wires
Electrical wires run as individual conductors of electricity. It could be a copper or aluminum wire that transports electricity through an electric circuit. The wire may run openly, through a pipe (conduit), overhead, or even underground depending on the application.
Depending on the load connected, wires for house wiring can range from 1 sqm S/C, 1.5 sqm S/C, 2 sqm S/C, and 2.5 sqm S/C to 4 sqm S/C, and so on. Using different wires helps prevent short-circuiting.
·         Electrical cables
Unlike individual wire conductors, electrical cables represent a group of wires bundled up in a single sheathing to transport electric current. Common applications of cables are in electrical appliances like refrigerators, computers, TVs, and the like, as well as in data transmission by telecom companies.
Typically, cables are labeled differently according to the number of wires, insulation type, and the wire gauge. For home wiring, most cables are generally labeled as 14-2G, 14-3G, 600V, and 12-2 w/G, among other labels.
However, in terms of insulation, the wires may be labeled as THHN, THWN, THW, or XHHN. The T stands for thermoplastic material for fire resistance, H for heat resistance, HH for high heat resistance, W for application in damp and wet locations, X for flame-retardant material, and N for nylon coating for better oil resistance.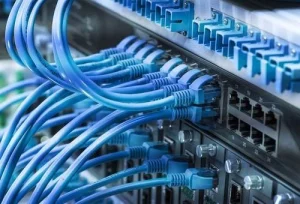 ·         Electrical conduits
An electrical conduit refers to a tube carriage that houses electrical cables either for energy or data transmission. The conduit may be crafted from rigid steel, lighter steel, aluminum, or PVC.
In addition to providing housing, conduits also play a protective role to the wires and cables inside them. They are common in residential and commercial buildings where the wiring is surface mounted or exposed or installed outdoors.
Thus, when selecting the right conduit size, material, or fittings, it is important to base that decision on the type of wiring housed and the kind of environment the wiring will be installed. Generally, conduits for electrical applications vary in size from 3/8 inches to about 6 inches.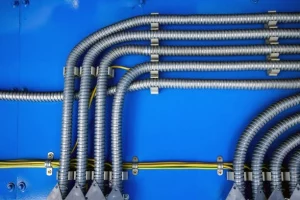 ·         Electrical switches
Electrical switches are a vital building component as they help regulate the power supply by turning it on or off. For house wiring especially, toggle switches are commonly used. Furthermore, they come in different sizes and styles according to your décor goals. The most popular styles are three-way, single-pole, four-way, and dimmer switches.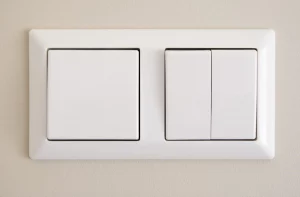 ·         Electrical sockets
The primary role of electrical sockets is to ensure a continuous supply of electricity for all your electrical equipment. That means all your equipment or appliances are first linked to the sockets before drawing power from the main power supply line. Further, the "on" and "off" operation of switches complements the functionality of sockets.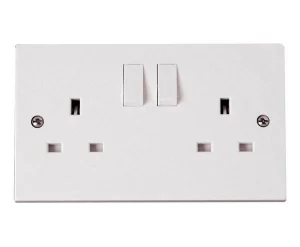 ·         Circuit breakers
At the core, circuit breakers help to keep your electrical appliances and equipment from damage. They automatically disrupt the flow of electric current to prevent an overload or short that would be disastrous to your entire electrical system. Whether you prefer a single circuit breaker or a double circuit breaker, you will find them all at Pioneer Hardware.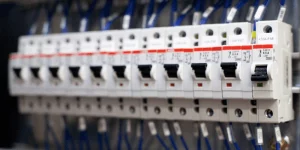 What may cause a circuit overload?
An overloaded circuit will definitely cause your circuit breakers to trip. A circuit overload simply means the electrical load or current flowing through your circuit exceeds the recommended parameters. Thus, the circuit breaks or stops functioning as a protective mechanism. That said, sometimes the overload is due to loose connections on the power outlets.
Working on your building construction with this basic understanding is imperative because excessive circuit overload can ultimately result in fires!
What may cause a short circuit?
Another common reason for your circuit breakers to trip is a short. A short circuit is triggered when two hot wires (black) touch each other or when a hot wire touches a neutral wire (white) and can be more severe than an overload. It can also occur if any of the wires in the circuit experiences a break.
·         Lighting fixtures
Also known as light fittings or luminaires, lighting fixtures are electrical devices that host electric lamps to provide illumination. That means a lighting fixture comes with a fixture body and one or several lamps. The lamps may be attached to sockets to simplify replacement or hard-wired in place, especially in the case of LED fixtures.
Broadly speaking, some of the popular types of lighting fixtures include wall sconces, pendants, chandeliers, track lights, and ceiling lights, among others.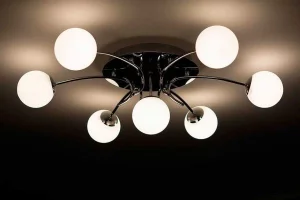 ·         Electrical measuring devices
Whether for your residential or commercial premises, an electrical technician will need electrical measurement tools to assess the electrical activity of your building. Simply put, these devices help you detect the presence of current or voltage in your building's electrical system.
Typically, the instruments rely on DC or AC power sources to measure different electrical parameters such as frequency, voltage, resistance, and power factor. Some of the electrical measuring devices we stock at Pioneer Hardware include ammeters, voltmeters, ohmmeters, multimeters, and wattmeters, among others.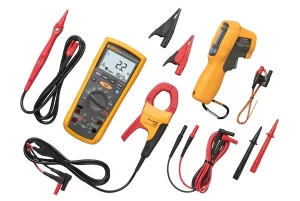 ·         Wire connectors
Wire connectors help you terminate your wires in style rather than merely leaving them bare or hanging. What's more, you can even splice multiple wires together using our wire connectors for a more decent building wiring. From transparent connectors, winged connectors, non-winged connectors, and twist-on connectors, to push-in connectors, we have got all the wiring accessories you are looking for to afford your building that irresistible professional look and feel.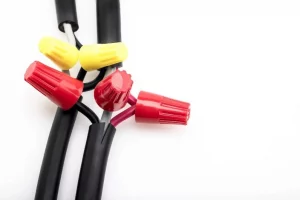 ·         Cord covers
If the cords, cables, or wires in your building are running across a surface frequented by heavy foot or vehicle traffic, you might want to think about the safety of those cords and the traffic running over them. A cord cover is a great solution. Quite simply, our cord covers prevent damage to your cables while protecting the surrounding foot traffic from trip hazards.
Moreover, our cord covers are ideal for versatile applications in your home, office, construction site, or warehouse, be it indoors or outdoors. We can also help you find custom-colored covers to match your décor accordingly.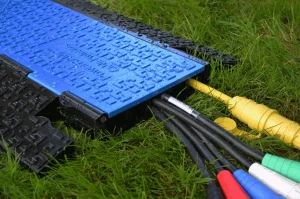 Find exactly what you need with a specialist!
When purchasing electrical supplies, it is extremely paramount to go for safe and quality products from a reputable supplier of electrical products.
Now that you are acquainted with the commonly used electrical supplies in building construction projects, make your way to Pioneer Hardware in Ruaka for a fruitful shopping experience.
When you visit us, we will listen to you intently and help you select the electrical supplies best suited to your unique project requirements. Whether you are looking for electrical materials tailored to your residential, commercial, or industrial tasks, our industry-wide expertise and a huge inventory of top-quality products allow us to afford you the best customized solutions.
What's more, our electrical products have not only been tested for safety but are also super affordable to ensure your building project doesn't stall at any stage.
So, want to keep building uninterrupted? Partner with a reliable supplier of building materials including the best-in-class electrical supplies. Visit Pioneer Hardware Ruaka or contact us today on 0723364999 to get started. Enjoy free consultations and benefit from our highly responsive customer support.