When embarking on any building project, whether for personal or commercial use, you place a very high premium on the structure's durability. And you are right in doing so because to a large extent, durability has a significant bearing on the return on investment you end up getting from your building.
Even so, durability cannot be divorced from quality building materials. Not only are high-quality materials durable but they also add an enduring sense of aesthetics to your structure sure to appeal for a lifetime. Sturdy steel is one of the most prominent elements of quality building materials.
Both engineers, architects, contractors, and designers alike agree that steel is an extremely important resource in the building construction industry. Steel comes with endless benefits compared to any other building material.
As a highly durable material, reinforcing your building's integrity with steel adds another layer of longevity to the structure. That's because steel-framed structures can reliably withstand all sorts of external pressure resulting from natural disasters such as earthquakes, thunderstorms, and the like.
Besides longevity, steel is also highly eco-friendly with the ability to be recycled after exhausting its lifespan. Being an energy-efficient building material, steel buildings also guarantee incredible cost savings over and above preserving the environment.
We could go on and on in discussing the unmatched benefits of steel in building construction including affordability, flexibility, constructability, and so on. The bottom line is that every single structure out there heavily relies on steel for strength. That is to say, steel is synonymous with a building's strength.
Being that crucial in your building project, where do you source the right steel products for the right building strength? If you are in and around Ruaka, Kiambu, or Nairobi, Pioneer Hardware promises that and so much more.
As your one-stop hardware store for superior-quality building materials, you can expect nothing short of remarkable buildings when you shop with us.
Ready to make that transition? Visit Pioneer Hardware Ruaka or call us today on 0723364999 and see your wildest building dreams translate into a visually interesting, lasting reality.
What you can expect from us
When you turn to us for quality steel and steel products, we always strive to exceed your expectations thanks to our partnership with leading steel manufacturers and distributors. All our partners for superior-quality steel products are reputable companies that have been serving the Kenyan market for decades without any single reported case of quality compromise.
Thus, whether you are shopping for the highest quality weld mesh, wire nails, hollow sections, mild steel angles, or mild steel plates, we are a dependable supplier of all that and more.
What's more, our steel experts are always on standby should you need further consultations on your unique project needs. We believe that the more we can tailor our solutions to your project goals, the faster we can reach our topmost goal of customer satisfaction.
With that in mind, here are the industry-leading steel manufacturers we work closely with to ensure the structural integrity of your building remains so for the longest time possible:
Tononoka Steels Ltd.: Boasting over four decades of serving the water industry, building construction industry, and fabricators with the best-in-class steel products including hollow sections, galvanized pipes, black pipes, profiles, beams, flats, angles, and channels, among others.
Tarmal Steel: Rose from a simple local hardware store to currently serving the entire East African region with quality steel and allied products such as power steel, hollow sections, and wire products.
Bhachu Industries Limited: Thanks to the inception of its sister company, Accurate Steel Mills, the company successfully ventured into the manufacturing of different steel products targeting the building construction and fabrication industries. Some of the steel products they manufacture include T-bars, Z-section, water pipes, black pipes, square sections, channels, and reinforced bars, among others.
Apex Steel Ltd.: An award-winning steel manufacturer, Apex Steel has continued to be a reliable partner in the Kenyan building construction industry for the last five decades. The company specializes in piping systems as well as steel products such as black pipes, square tubes, rectangular tubes, flat bars, angles, and window sections.
Devki Steel Mills Limited: Believes the future rests on steel and strives for 100% customer satisfaction backed by a wide array of superior steel products including wires, bars, and tubes.
Abyssinia Group: Deals in high-quality building steel serving Kenya and the entire East African region. Their steel products range from hot rolled products and cold rolled products to varied wire products.
Insteel Limited: Has been serving different sectors including building construction, agriculture, borehole drilling, and plumbing with high-quality, industry-leading steel products without compromise. From black steel pipes and galvanized steel pipes to zed purlins, Insteel boasts a rich stock of quality steel.
What are our top steel products?
Now that you know where we source our quality steel products, it is time to explore the different types of products you can expect to find stocked at Pioneer Hardware, Ruaka. From steel beams, steel bars, steel pipes, and steel plates, to wire rods, we stock all the quality steel products under one roof so you don't waste time comparing different suppliers.
In other words, our aim is to help you focus on what's really important to you as we do the heavy lifting in selecting and consolidating the best steel products for you. We delight in eliminating all the guesswork in your shopping experience by providing expert consultations if you are unsure what will work for you. Being with you every step of your construction journey ensures our superior quality ends up reflected in the final output of your project.
We deal in different types, grades, dimensions, and designs of steel products that can come in handy in the different stages of your building projects. Our most popular steel products include:
Wires
Our vast wire stock boasts a broad range of top-quality wires coming in different sizes and thicknesses to best address your unique needs. The different types of wires at our store range from barbed wires, binding wires, BRC wires, chain links, and chicken wires, to wire nails.
·         Barbed wire
Barbed wire is crafted from different sizes of galvanized iron (GI) wire. The wires are combined through intuitive machine action to form a cable before infusion with another wire to form a barb.
In terms of packaging, barbed wires come in different weights and dimensions including 20kg (12.5 gauge), 25kg (610m), and 20kg (480m). That said, barbed wires are commonly applied in security fencing as an extra security layer.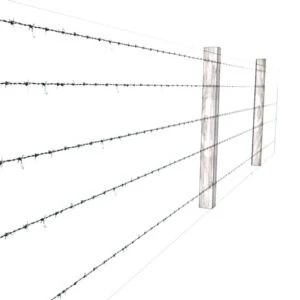 ·         Binding wire
Sometimes called annealed wire, binding wire is a product of thinning wire. The thinned wire then passes through different dyes to achieve the desired sizes and thickness. Binding wire is commonly used in building projects to tie different items together to achieve a firmer hold.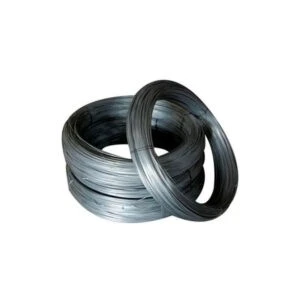 ·         BRC wire
BRC wire mesh almost resembles weld mesh except with a stronger and thicker demeanor. It is crafted simply by crisscrossing rows and columns of wire using a special machine. Then, the whole framework is welded together at the intersections.
Typically, BRC wire comes with a length of 48m and a width of 2.1m. In terms of types, BRC wire is available in 4mm (220kg), 5mm (147.5kg), and 6mm (95.7kg). The main application of BRC wire in building construction is to reinforce concrete on floors.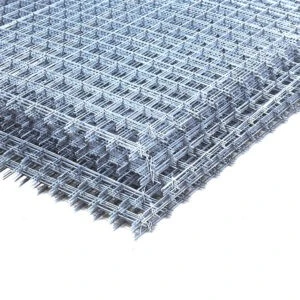 ·         Chain link
Just like barbed wire, chain link is made from galvanized iron wire that is fed into a set of knitting machines to produce the unique cross-weaved pattern. The chain comes in a standard length of 18m and features different sizes including 4ft, 5ft, 6ft, and 7ft.
In terms of packaging, chain links come in bundles of 19.4 kg (7ft), 16.8kg (6ft), 14.5kg (5ft), and 11kg (4ft). They are mostly used in fencing to secure a property.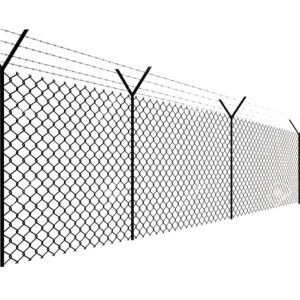 ·         Chicken wire
Chicken wire is also crafted from galvanized iron wire that is rolled and twisted appropriately through a special machine. The production takes place in lengths of 18m and upon completion, the wires are packaged in 8 kg bundles. Generally, chicken wire is used in fencing lawns and gardens.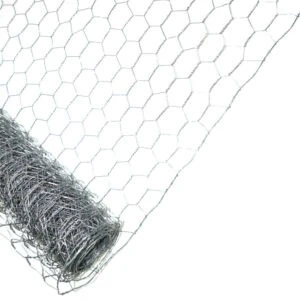 ·         Clout nails
Clout nails are easily identifiable thanks to their short, thick frames crowned with large, flat heads. They are manufactured from a wire bundle passed through a special machine that cuts and shapes the wire into the desired nail size. Usually, clout nails come in sizes of 1.5 inches and thicknesses of 3.5mm.
The final packaging of clout nails is in 50 kg sacks. Their application is mostly in roofs and ceilings.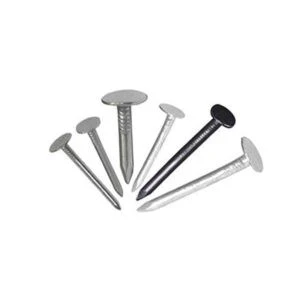 ·         Razor wire
Also called barbed tape mesh, razor wire is produced by cutting galvanized iron wire into barb tape before twisting and attaching it to steel wire rope. It comes in lengths of 10m and thicknesses of 2.5mm.
When ready, the wire is then packaged into bundles of 6kg. Razor wires can be electrified and used for security fencing.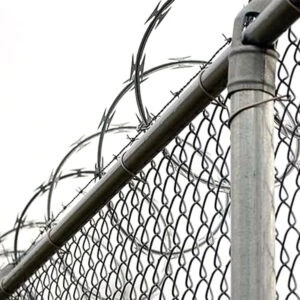 ·         U nails
These nails are made by passing a wire bundle through a special machine that then cuts and shapes the wire into desired nail sizes. U nails come in sizes of 1.5 inches and thicknesses of 3.5mm. They come in 50kg packages to be used in supporting horizontal wires.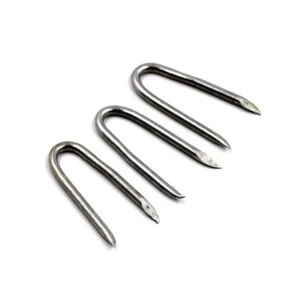 ·         Weld mesh
Weld mesh is produced from a bundle of wire that is welded together on different intersections of rows to form a box-like structure between the wires. Weld mesh comes in a standard size of 8 by 4 feet and the standard box size between the welds is 75m by 75m.
In terms of thickness, weld mesh may come in light, medium, and heavy types. It can be applied in panel fencing, wire partitioning, animal cages, and wire baskets.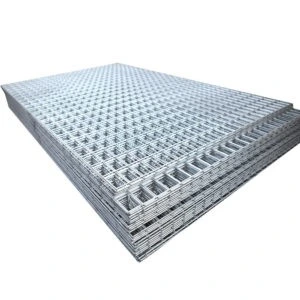 ·         Wire nails
Just like clout nails and u nails, wire nails are manufactured when a wire bundle passes through a special machine responsible for cutting and shaping the wire into the desired nail size. Their sizes range from 1 inch to 6 inches with accompanying thickness from 1.8mm to 6.2mm. Upon production, wire nails are packaged in 50kg bags to be used for building projects.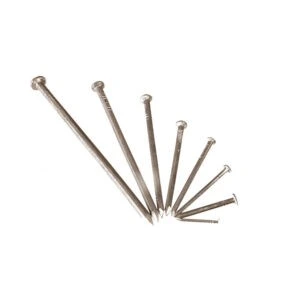 Bars
At Pioneer Hardware, we understand the importance of reinforcing your building's concrete to better withstand both compression and tension forces that would otherwise threaten your building's structural integrity. With the structural soundness intact, you can rest assured you are stepping into a lifetime investment that comes with zero regrets.
Let us help you get there by contacting us today to access different types of steel bars to reinforce your building including flat bars, square bars, round bars, zed bars, MS plates, TMT bars, tee bars, angle bars, and black pipes.
·         Flat bars
We stock quality flat bars that display excellent strength and corrosion resistance to take on any type and size of a building project. Flat bars are commonly applied as support materials in your building to support ladder hangers, braces, ductwork, gate latches, and overhead heaters.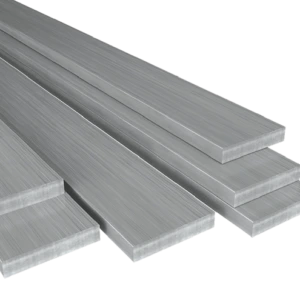 ·         Square bars
Square bars simply mean metal bars defined by a square frame. Thanks to clever manufacturing, square bars boast enviable properties of an extremely strong and solid steel bar for unbreakable tensile strength in your structure. They are mostly used for railings and other protective barriers in buildings.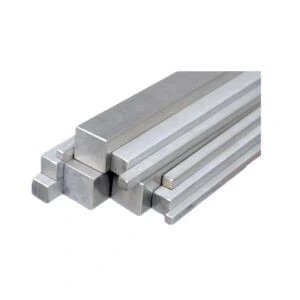 ·         Round bars
Round bars are long, cylindrical steel bars built-in with excellent strength and impact resistance. These powerful qualities make them excellent for heavyweight commercial and industrial applications. Thus, they come in different sizes to fit different building needs.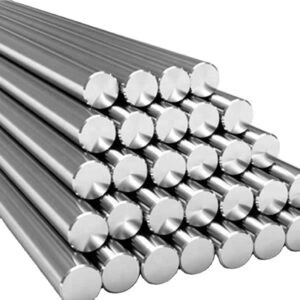 ·         Zed bars
Zed bars are crafted from Z-angle steel hence the Z shape of the bar. They are popular in welding applications and hence widely used in building construction projects. In addition to welding, they are also used for reinforcements, support, framing, and tracks.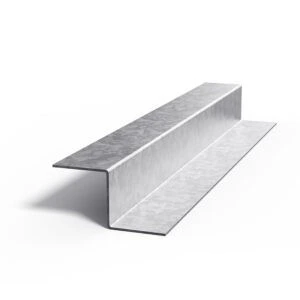 ·         MS plates
Also known as black sheets, MS plates are flexible flat steel plates that possess incredible binding strength to reinforce cement in a building. They are commonly applied in metal fabrication, canopies, pedestals, and stands.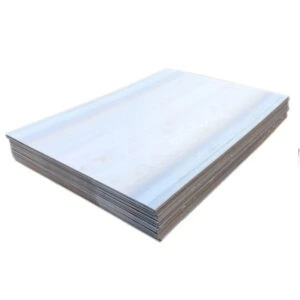 ·         TMT bars
TMT stands for Thermo mechanically treated. Thus, TMT bars are made from steel integrated with hardening and heat treatment. Since they eliminate the need for cold twisting, TMT bars are highly corrosion resistant and bond excellently with concrete.
Their powerful composition means they also showcase incredible tensile strength, ductility, and bendability. Thus, TMT bars are mostly used to reinforce concrete.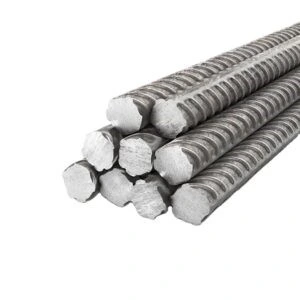 ·         Tee bars
Sometimes referred to as T-beams or T-bars, tee bars are simply steel bars characterized by a T-shaped cross-section. They are used in supporting concrete floor slabs and steel decking. When you step into Pioneer Hardware, you can access our wide range of standard size and custom-tailored tee bars for all your unique fabrication needs.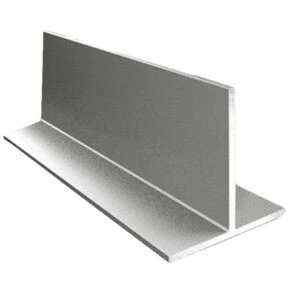 ·         Angle bars
Angle bars are L-shaped steel brackets designed to add stability to structures. Typically, they are installed in or along beam edges and other surfaces too weak to sustain the desired load capacity. Additionally, angle bars provide extra strength while also protecting structures from corrosion.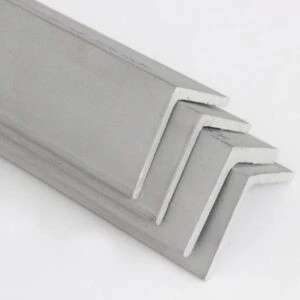 ·         Black pipes
We stock high-strength black steel pipes used to ferry natural gas and water from the main source to a certain destination inside your building. The pipes are designed to be highly heat resistant to effectively transport heating and cooling water. They are therefore common in large engineering and industrial applications.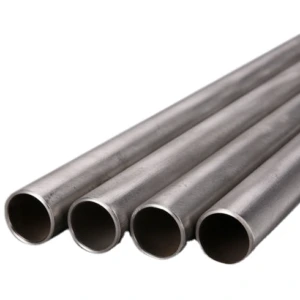 Tubes
At Pioneer Hardware, Ruaka, we boast the privilege of stocking a broad array of tubes of various sizes and specifications. What's more, all our tubes showcase the highest quality standards backed by a KEBS certification to guarantee superior structures.
The major types of steel tubes you can find at our store are circular hollow section tubes, rectangular hollow section tubes, and square hollow section tubes.
·         Circular hollow section tubes
Sometimes known as round furniture tubes, our quality circular hollow sections come in different sizes and specifications to suit different building construction requirements. They can be used in different types of building projects to support metallic structures located indoors or outdoors.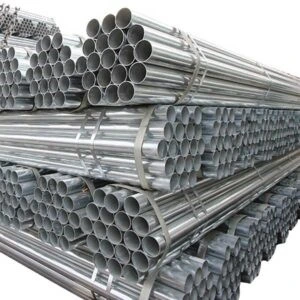 ·         Rectangular hollow section tubes
These are simply rectangular steel pipes largely defined by a hollow section in the middle. They are produced through the cold bending of either cold or hot rolled steel strips before applying high-frequency welding to produce the desired rectangular section shape and size.
What you will find at Pioneer Hardware are rectangular hollow section tubes in different grades, sizes, and finishes. The tubes can be used as line pipes, fences, door pipes, and in other building construction applications.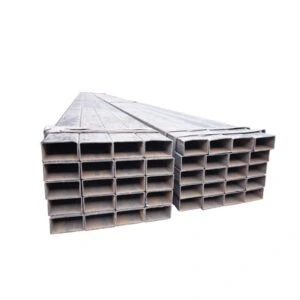 ·         Square hollow section tubes
These tubes resemble their rectangular cousins except they are defined by a square hollow middle section. Moreover, they are also produced through the cold bending process and come in varying grades, sizes, and finishes for all the unique applications you are after.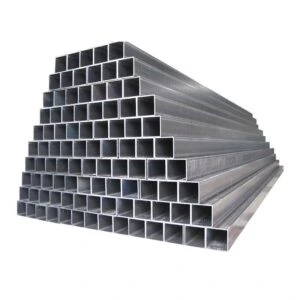 Looking for the best quality steel?
If yes, Pioneer Hardware is your go-to supplier of industry-leading steel and steel products. We source all our building materials from proven local and regional manufacturers, distributors, and wholesalers to afford you a flawless journey when embarking on your building project. Whether for residential, commercial, or industrial applications, we have got you covered!
So, how do you access our rich selection of the best steel products locally and regionally? Well, if you are in and around Ruaka, Kiambu, or Nairobi, simply visit Pioneer Hardware Ruaka any day of the week. Alternatively, you could call us today on 0723364999 to speak to our trained, experienced, and friendly attendants. We will discuss your project goals with you and help you find the right steel products to suit your needs perfectly!