Perhaps you are looking for some fresh inspiration to enliven the appearance of your renovated building or looking for the right advice on the outlook of your new building. Whatever the case, the invigorating, refreshing role of painting a building cannot be overlooked.
Applying a fresh coat of paint on your building's exterior or interior significantly improves the overall appearance of the structure. That said, to achieve maximum aesthetics, you should only confine your paint job to high-quality paints.
In addition to enhancing the visual interest of your home or commercial property, quality painting also provides an extra layer of protection from ravaging insects, rain, or solar radiation on all your surfaces. What's more, quality painting is a way to lower the maintenance of your surfaces by ensuring easy cleaning.
Proper painting may also augment the waterproofing capabilities of your building's surfaces and hence significantly lower any risks of water damage. Ultimately, the grand benefit of quality painting is boosting surface durability.
So, whether you are painting for ornamental or functional reasons, you should not go for anything short of top-quality paint. Since you are adding color to your world, you want to make sure you only add beautiful, durable, and cost-effective colors.
To achieve this, you should find and work with a reliable paint supplier. That's where Pioneer Hardware steps in. In addition to supplying top-grade building materials, we also specialize in high-quality paint supplies.
Working with us for all your paint supplies affords you an opportunity to only access paint products sourced from the leading brands in the market. This is how we guarantee a maximum return on your investment.
Ready to update the look of your building with industry-leading painting products? Contact our Ruaka store at 0723364999 or 0782005737 to speak to one of our attendants for the best painting package.
What Are the Components of Paint?
Before applying it to your building, you want to be sure of what you are actually applying. Whether you are coating metallic parts, timber sections, or plastered surfaces, understanding the contents of good quality paint will boost your confidence in the product.
To aid the binding properties of paint, it comprises the perfect combination of different well-thought-out ingredients including:
Pigment: To provide paint color, opacity, and durability.
Solvent: To enhance the smooth flow and application of the paint.
Extender: To boost opacity, the paint's body, and produce more paint.
Binder: To glue together the extender and the pigment for better adhesion.
Additives: To improve paint settling and drying as well as mitigate paint skinning.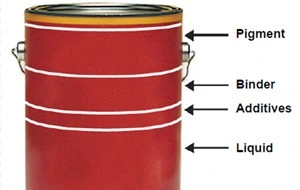 All these paint components are crucial and omitting one may easily amount to compromised paint quality.
With that in mind, the difference between good-quality paint and poor-quality paint is dependent on the quantity of each of these components making up the paint. For instance, a top-quality paint has a greater blend of binder and pigment compared to a poor-quality paint.
The paint pigment matters because it is responsible for the paint's UV resistance and durability helping the paint to fade slower.
Practically, therefore, on a percentage scale, a good quality paint would look something like this:
Pigment: 20%
Solvent: 15%
Extender: 20%
Binder: 40%
Additives: 5%
Why Do Paint Components Matter?
The higher the percentage of pigment and binder in the paint, the costlier it will be. Even so, the long-lasting benefits of such a paint make the high price point worth every shilling. Besides, the frequent repainting that comes with low-quality paint leads to more frustration for your purse!
In other words, investing in high-quality paint translates to less repainting for your surfaces. Why? Because such a paint provides a more powerful building protection minimizing structural damages.
That said, cheaper paints may come in handy in certain situations. For example, when painting a boundary wall prone to moisture exposure, you would be better off with a cheaper paint that's more porous. Porous is better because it affords the substrate a breathing chance.
Therefore, to rule out any guesswork and confusion when paint shopping, you need reliable advice from a proven paint supplier. At Pioneer Hardware, we consult with you before advising on the best paint mix to resonate with your unique needs and budget.
Contact us today to speak to our knowledgeable attendants and walk away with satisfactory solutions for your painting project.
How Do You Identify a Good Quality Paint?
In addition to the aforementioned ingredient constituents, good quality paint can as well be identified through several other characteristic qualities.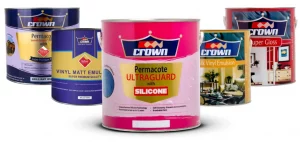 Simply put, it should:
Be user-friendly
Be easy to apply
Be easy to clean
Dry within a reasonable time
Form a thin layer without cracking
Form a tough and durable coating
Be weather or fade-resistant
Be surface-friendly
Before selecting your ideal paint, you must carefully examine or inquire about these physical characteristics to ensure you do not compromise on quality outcomes.
What Are the Effects of Painting Your Building?
Apart from making your building more visually appealing, quality painting also carries other hidden benefits that many building owners tend to overlook. In other words, properly painting your building carries more worth than you may care to admit.
Whether you are painting your building's exterior or interior surfaces, the following major benefits will certainly accrue: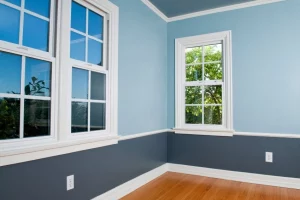 1.      Enhanced Protection
On a daily basis, your walls go through a lot of punishment be it from dirt, grime, dust, or hanging objects. Consequently, they are exposed to faster wear and tear.
However, when a fresh coat of paint steps in, your walls essentially receive more surface protection from moisture, dirt, and getting worn out easily. By sealing out moisture, painting helps to mitigate any surface-threatening mold or mildew growth.
2.      Increased Property Value
If your building's resale value matters to you, then you should always be mindful of its curb appeal. Applying a fresh coat of paint is a surefire way to boost this curb appeal because it is synonymous with building upgrade.
When a potential buyer looks at a freshly painted building, they see a newer, neater, and more attractive structure standing in front of them. The effect of this is more interest to buy.
3.      Better Personalization
Did you know that painting is a fancy way of relating to your building more personally? It affords you a generous opportunity to put your inmost interests on display using your favorite colors, patterns, and styles. The more you can relate to your building, the more it feels like home.
In other words, painting allows you to bring together different things about you into one beautiful whole. By complementing your wall colors with your personality, furniture, and décor, you essentially become one with the building.
What Types of Paint Should You Use?
Having understood the life-changing benefits of painting your building, it is also important to learn the types of paints available for your selection. Armed with this knowledge, you will have an easier time finding the pain that suits your needs accordingly.
The most popular paint types ideal for building construction include:
·         Oil Paints
Oil paints feature a white lead base and take three coats to be fully applied including primer, undercoat, and finish coat. They come in both matte and glossy finishes.
Oil paints stand out because, in addition to being durable, they are also highly inexpensive. What's more, they are easy to apply and clean. Typically, they are applied on doors, windows, walls, and metallic surfaces.
That said, oil paints may not be ideal for humid areas as they generally take longer to cure. Examples are the Supergloss and Vesta Gloss from Crown Paints.
·         Emulsion Paints
Based on the primary meaning of emulsion, you can think of emulsion paints as containing a partial mixture of two liquids. Most emulsion paints feature water as the basic medium in which additives, binders, and pigment are added. Nonetheless, they can also be oil-based.
The striking feature of emulsion paints is their ability to dry quickly and harden. They are also easy to maintain by cleaning with water. Mostly, they are applied on interior walls, ceilings, and stonework. A good example is the Vinyl Matt Luxury Emulsion from Crown Paints.
·         Enamel Paints
Enamel paints are a product of adding zinc or lead to varnish. Further, adding pigments produces a wide selection of colors. Once applied, these paints yield hard, glossy coats that are very easy to clean.  Moreover, they are also waterproof and chemical-resistant to boost durability.
The most common applications of enamel paints include windows, exterior walls, interior walls, wood trim, and flooring. The downside of these paints is slow drying and the need for a titanium coating prior to application. A good example is the Ngao Gloss Enamel from Crown Paints.
·         Cement Paints
Cement paints contain white or colored cement as the base material. They come in powder form and when mixed with water, you can achieve the desired paint uniformity. Cement paints are waterproof and hence durable. They are commonly used in both rough interiors and exteriors.
That said, cement paints take longer to dry and may require more than one coat to mitigate dampness. An example is the Concrete Floor Paint from Crown Paints.
Where Can You Get These Quality Paints?
Ready to start shopping for the best quality paints and paint accessories? Start and end that journey at Pioneer Hardware, Ruaka.
At our store, you can shop from a wide selection of paint supplies including:
Paintbrushes (Different sizes)
Paint rollers
Paint buckets
Paint scrapers
Crown paints (Different Ranges and Colours)
Body filler
Adhesives
Thinners
Aerosol Paint Sprays (Multiple Colors Available)
Wire brush
Caulking gun
We have partnered with Crown Paints to supply the best in painting products and accessories. Whether you are looking for high-quality decorative paints, automotive paints, industrial paints, thinners, or adhesives, you will never walk out of our store empty-handed. Our richly-stocked store provides all the right solutions just when you need them.
Find Expert Inspiration!
Working with a paint expert is a faster way to arrive at your painting conclusion without much hassle. An expert is well versed in the different paint varieties and can easily relate to your unique needs. That means they will offer the best yet personalized advice to ensure your goals are met and dreams brought to life.
Not sure where to find such an expert? Simply turn to Pioneer Hardware and watch your painting dreams grow wings. In other words, we can help you take your building to unprecedented heights of magnificence by adding simple color.
When you come to us with your ideas, we combine our years of experience and paint expertise to recommend the best paint mix to instantly realize all your dreams!
If you are ready to color your building with head-turning colors and patterns, reach out to us today at 0723364999 or 0782005737 and we will make it happen.