The adoption of technology has largely revolutionized building construction. From site sensors, drones, and 3D designs, to machine learning, every building construction site you visit today looks a whole lot different from what it used to be a decade ago. Technology infusion has found wide acceptance thanks to its unrivaled ability to quickly boost productivity, enhance process efficiency, augment site safety, and cement collaboration.
That said, technology alone is not enough to succeed in building construction. The smarter homeowners, real estate developers, and commercial property owners are going a step further to add high-quality building materials to the whole equation. In other words, combining cutting-edge technology with the best-in-class building materials yields unprecedented structures sure to arouse interest.
So, why quality materials? It's simple. Quality materials produce quality results. That means when you build using quality materials, you have every right to expect a sturdy and durable building as the end product. That is always guaranteed!
The other thing to think about is where to source your quality building materials from. Since you are here already, you might want to check out what Pioneer Hardware, Ruaka has to offer.
Being in the building construction industry for decades, we are well versed with the latest building trends and the right building materials and hardware supplies to go along with the emerging trends. Whether you are looking for customized building solutions or prefabricated ones, our industry experience and knowledge base are vast enough to accommodate your unique needs.
Located in one of the fastest-growing development hubs in the East African region, Pioneer Hardware has continued to play a leading role in ensuring the quality and safety of the structures we help put up. We achieve this by supplying our clients with top-of-the-range building materials and expert advice. We source all our materials from the best brands to keep quality compromise out of the question.
If that fits the description of a building construction partner you are looking to work with, visit our Pioneer Hardware store in Ruaka or give us a call today at 0723364999 or 0782005737 to get started.
What Is Building Material?
Simply put, building material is any material used in setting up your building. It may include cement, re-bars, bricks, sand, aggregate, wood, clay, and the like.
While traditionally wood and bricks were the main highlights of any building, modern engineers have reinvented the process entirely. Nowadays, it is possible to mix and match different materials optimally to produce better quality structures.
That said, the choice of materials always comes down to a client's budget and whether the materials chosen would attain the desired structural results. Generally, the quality of the materials dictates the strength and durability of the building.
To save mother nature from extinction, most modern building materials are manufactured. Modern materials are synthetic to reduce the use of natural building materials like wood whose extraction threatens the ecosystem.
Furthermore, from the concept of synthetics, pre-fabricated structures have emerged. These structures are manufactured and pre-assembled off-site. Once acquired, your project team will only need to fit them in the building and that's it. Some examples include cabinets, walls, doors, and windows.
What Are the Most Important Building Materials to Think About?
In any building construction project, there are certain materials that you would hardly miss in the picture. They play a fundamental role in bringing the other building elements together for an overall wholesome structure. Being that crucial, you cannot afford to compromise on their quality.
Some of these materials include:
Cement
Think of cement as the binding agent in your building project. That means cement is responsible for binding bricks, sand, steel bars, and other structural components to achieve maximum structural integrity.
In the Kenyan market, cement comes in various classes according to application. The three major ones are:
Class 32.5 N: The most commonly applied cement, Class 32.5 N is ideal for normal strength construction where high strength is not necessary. It is mostly used in the construction of concrete water tanks, swimming pools, and plastering.
Class 32.5 R: Mostly used where high early strength is not needed in construction. Requiring little binding strength, it is, therefore, suitable for tiles installation, plastering, and building walls.
Class 42.5 N: Designed to withstand larger loads and higher pressure, Class 42.5 N comes with a higher initial strength during curing. It is widely used in constructing heavy structures like dams, bridges, and subways.
Sand
Comprising particles of disintegrated rock, sand adds unique properties such as strength to concrete used in construction. There are several varieties of sand available for building construction including River Sand, Rock Sand, Pit Sand, and Fine Sand. They all vary in particle size and binding properties.
Stone
Being heavyweight, stone is commonly used in the construction of floors and walls. As a natural building material, stone not only adds durability to a building but also natural aesthetics. Generally, building construction projects use two stone types, that is, manual cut stones and machine cut stones.
Brick
A brick is simply a block used in constructing different elements of a building such as walls and pavements. It may contain clay or other materials. Some of the popular types of bricks used in building construction include clay bricks, engineering bricks, concrete bricks, and lime bricks.
Aggregate
Probably the most popular item in building construction, aggregate plays a crosscutting role. It simply refers to an assortment of particulate material comprising a good mixture of coarse and medium-grain properties. Aggregate is mixed with cement, lime, or gypsum to produce mortar or concrete. It, therefore, adds stability and volume to the entire mixture.
Wood
Wood is the most versatile material used in building construction for different applications. The major types of wood used in erecting a building are:
Softwood (pine, spruce, fir, cedar, hemlock)
Hardwood (mahogany, oak, teak, maple, cherry)
Engineered wood (plywood, MDF, composite board)
Metal
Rarely are buildings constructed without metal and therefore the right metal type and quality matter a lot. The common metal varieties mostly used are stainless steel, aluminum, mild steel, copper, and brass. These types are preferred for their high tensile strength to undergird durability.
Glass
Glass adds incredible value to a building including natural light transmission, thermal insulation, and sound insulation. Thus, you cannot rule out quality when considering the best glass for your building. The most popular glass types in any construction include tinted glass, laminated glass, shatterproof glass, float glass, chromatic glass, and toughened glass.
Why You Need Quality Building Materials
If you take quality out of any equation, the outcome is always compromised or frowned upon. You cannot afford that for your building project given it is a huge investment and a lifetime milestone.
That's why quality building materials are a must-have when you are setting up your new home or renovating your commercial building.
Among other things, quality materials guarantee:
Durability
Working with high-quality materials means minimizing any chances of having to replace them. Such materials offer the utmost performance guaranteeing your building to last a lifetime. Unlike poor-quality materials that are susceptible to cracks and breaks, quality materials require low maintenance causing your building to always look in tip-top shape.
Safety
Built to last, quality materials have a stronger endurance and offer greater resistance to the elements. Over time, they can easily stand the tough test of time without compromising the structure's integrity. This affords you great peace of mind resting in the assurance that you are in safe hands. In other words, when applied professionally, quality materials add reliability and efficiency to your building.
Cost Savings
Investing in quality materials from the get-go helps you to save on future unforeseen costs. Opting for poor-quality materials amounts to frequent maintenance ultimately translating to higher building overheads. Further, replacements and repairs of broken sections of the building are way costlier in the long run.
Sustainability
As the world moves toward a sustainable future, so should your building. The only way to keep up with sustainability in your home or commercial property is to build with quality materials that are also eco-friendly.
What Are the Main Parts of a Building?
Broadly speaking, a building can be split into two sections, that is, the sub-structure and the super-structure.
The sub-structure simply refers to the section of the building constructed below the ground level. On the other hand, the super-structure is the section of the building constructed above the ground level. All the activities entailing building construction such as flooring, walls, and roofing can only take place after laying the sub-structure.
That said, the entire building structure features a well-coordinated sequence of different components including:
Roof
Parapet
Lintels
Beams and slabs
Columns
Damp Proof Course (DPC)
Walls
Floors
Stairs
Plinth Beam
Plinth
Foundation
All these components work in close harmony to secure the integrity of your building. Some play the supporting role, some the enclosing role, and others the protection role.
What Are the Top Qualities of the Best Building Material for Your Roof?
The best roofing material for your building is one that affords you a genuine smile for the entire lifespan of your roof. Being an expensive decision, buying a roof is not something you do every few years.
Therefore, you should be keen to choose a roofing material sure to last and save you money by eliminating frequent roof repairs.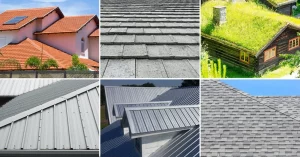 Roofing experts at Pioneer Hardware agree that these are the key characteristics to consider when acquiring a new roof:
Strength: Roofing strength automatically comes with durability. A strong roof doesn't break easily and can withstand the toughest punishment from the elements without caving.
Wind resistance: Being your first line of defense, your roof should stay put even amidst a ravaging wind storm to guarantee your safety.
Water resistance: Moisture invasion on your roof is inevitable. Therefore, your roof should remain structurally sound even after prolonged exposure to moisture.
Fire resistance: A good-quality roofing material should contain fire retardant elements to enhance its fireproofing capabilities.
The most popular roof materials available in the market are clay tiles, concrete tiles, metal sheets, asphalt shingles, slate tiles, and wood shakes.
What Are the Top Qualities of the Best Building Material for Your Wall?
Whether you are thinking about your exterior walls or interior walls, the type of wall material you choose has a significant bearing on the overall outlook and lifespan of your building. That said, in addition to strength and durability, your wall also plays a leading role in the visual interest of your structure.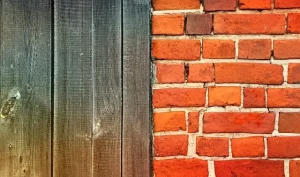 So, how do you select the best wall material? Generally, a good quality wall material should be assessed based on:
Durability
Chemical resistance
Fire resistance
Thermal capacity
Heat conductivity
Frost resistance
Water permeability
With that in mind, your exterior walls may require totally different materials from your interior walls. The most popular options for exterior walls are brick, wood, metal, vinyl, concrete, ceramic tiles, plastic, and stone. On the flip side, wood paneling, paint, tiles, brick, and glass make a great companion for interior walls.
Remember, for the best outcomes, you should select your interior wall material in line with your interior décor or your furniture colors. Moreover, budget considerations should also come into play.
What Are the Top Qualities of the Best Building Material for Your Floor?
You can accomplish your building's flooring using different materials including concrete, tiles (porcelain or ceramic), wood, laminate, marble, granite, and vinyl, among others. The truth is that all these materials have varying properties.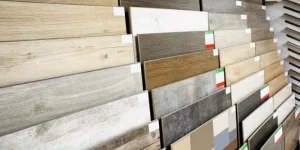 Therefore, you should determine the best floor material for your building based on several factors like:
Durability: The material should be strong enough to resist weathering caused by all sorts of load punishment.
Appearance: Based on the different colors, styles, designs, and shapes available, the floor material should be visually appealing.
Smoothness: To protect your equipment on the floor, the top surface of your floor material should be smooth and level.
Damp resistance: The floor material should resist dampness with ease, especially in places prone to wetness like bathrooms and kitchens. This helps to mitigate floor deterioration.
Cleanliness: The material should also be easy to clean and resistant to chemicals, oils, and greases. It should also resist stain formation with ease.
Maintenance: The floor material should be low-maintenance.
What to Consider When Choosing Lighting Supplies for Your Building
Whether you are looking to install fluorescent lamps, incandescent lights, or LED bulbs in your building, it is imperative to make your selection based on the right considerations. Poor lighting can potentially ruin the appeal of a magnificently constructed building. So, you want to make sure your lighting design complements the aesthetics of the building for the most value.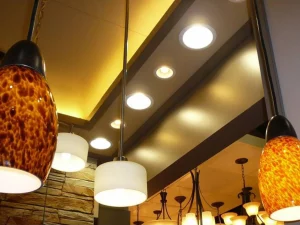 Some of the considerations when designing your building's lighting system include:
Light brightness and distribution
Energy efficiency
Aesthetics
Light color temperatures
Heat load
Lighting control and flexibility
Maintenance
What to Consider When Choosing Electrical Supplies for Your Building
Whether for your residential or commercial building, electrical accessories will remain vital in keeping your building functional, convenient, and comfortable. From wiring and gang boxes to switches and sockets, you will have to decide on the best accessories to suit your building in the most optimal manner.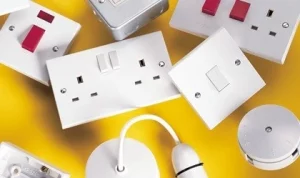 Some of the considerations to factor in your selection of electrical supplies include:
Fireproof material
Water-safe products
Eco-friendly products
Value-adding accessories
Reputable supplier
Find All Your Building Materials Under One Roof!
Yes, that's actually possible! When you step into Pioneer Hardware, your search ends right there. We save you time by sparing you the trouble of hopping from store to store. We have stocked everything together in all the best qualities.
If you have been looking for a multipurpose hardware store for all your building solutions, contact us at 0723364999 or 0782005737 for further inquiries.
In the store, you can access a huge selection of modern building materials including:
Cement
Plastic drums
Water tanks
Engineered wood
Ladders
Roofing sheets
Binding wire
Manhole covers
Construction nails
Construction safety gear
Electrical accessories
Lighting accessories
Tiles
Make Your Investment Count!
Your choice of building materials largely determines the success of your building construction project. The materials you choose can either make or break your project. So, as you plan for your project, take some time to analyze the materials best suited for your building.
Having the right material supplier by your side in the planning stage can help you make the whole process completely hassle-free. The best supplier will not only help you select the right building materials but also ensure timely delivery in line with your project schedule.
Pioneer Hardware is your go-to store for the best quality building materials. Our attendants are knowledgeable about all the latest brands in the market and will always offer free expert advice to inform your buying decision. Our aim is to add value to your project right from the onset by recommending only the materials resonating with your unique needs.
Ready to work closely with us? We are ready when you are! Simply contact our Ruaka store today at 0723364999 or 0782005737 to start building backed by quality!